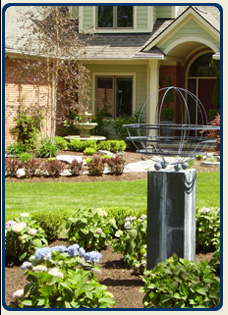 Guzman Landscape and Associates can answer all of your installation needs. We can use the creations of our design professional or we can implement the designs that you provide.
All elements of your landscape project will be installed using only top quality materials and installation practices.
Retaining wall systems can be installed using a wide variety of manufactured materials or choosing from several different natural stones. These wall systems can be for ornamental or structural use.
Guzman Landscape and Associates offers a wide variety of materials and colors for your walkway systems. Innovative ideas provide an interesting path to your destination.
We can maximize your space with innovative ideas and materials to create your outdoor living area.
Flagstone can be used as simple stepping stones or to create a rustic walkway or patio.
The sound of water will enhance any part of the landscape. We can provide a wide range of ponds, streams, and waterfalls for your enjoyment with little or no maintenance.
Let us brighten your landscape by with colorful flowers. We use a wide variety of annuals and perennials for your enjoyment.
We can accent your landscape with color and texture using your planters or we can provide planters for you.